Carmel, Ind., June 4, 2019 — Throughout the month of June, NextGear Capital will be thanking dealers across the country for their partnership by forgiving 20 loans and surprising four clients with customized golf carts. These efforts are aimed at recognizing the company's independent dealer client-base for their continued partnership and contributions to the industry.
"At NextGear Capital, we are committed to investing in independent dealers. We truly believe that our client's success is our success and appreciate the trust that so many of them place in us," Shane O'Dell, president of NextGear Capital stated. "And although I'd like to think we celebrate our partnership all year long, we're always particularly excited when June rolls around."
As the largest independent inventory finance company in North America, NextGear Capital provides services and support to more than 20,000 dealers. Accompanying the month-long celebration by NextGear Capital will be a social media campaign focused on reinforcing the thank you messaging through shared reactions of those selected for loan forgiveness and golf carts.
NextGear Capital Thank You Month was established in June of 2018 when the company dedicated an entire month solely to thanking their independent dealer clients. Transitioning from prizes such as Apple TVs, Xbox gaming consoles and Amazon Fire Sticks, NextGear Capital will be focused solely on loan forgiveness in 2019 as the ultimate way to show its appreciation for dealers.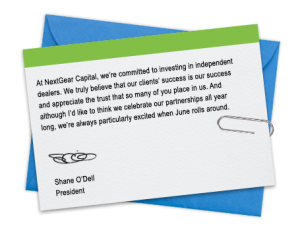 For more information plus terms and conditions for NextGear Capital Thank You Month, please visit nextgearcapital.com/thank-you
About NextGear Capital
NextGear Capital is the largest independent inventory finance company in North America, providing flexible lines of credit for auto dealers to buy used vehicles from over 1,000 auto and other vehicle sources throughout North America. With a client base of more than 20,000 dealers, NextGear Capital provides comprehensive services and support enabling dealers to buy and sell more inventory through self-service management tools, title services, records management and collateral protection. Headquartered in Carmel, Indiana, NextGear Capital is a Cox Automotive brand. For more information, visit nextgearcapital.com.