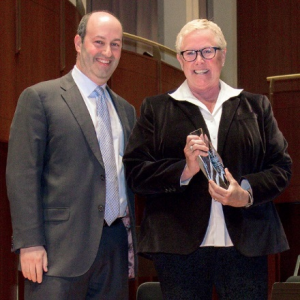 The Indianapolis Symphony Orchestra (ISO) recently held their Donor Volunteer Appreciation Concert at the Hilbert Circle Theatre; a free, private concert held annually to honor donors, sponsors and volunteers of the ISO. Prior to the concert, awards were handed out to recognize patrons and donors for exemplary support of the ISO in the last year.
This year, NextGear Capital was honored with the Biggest Fan award which recognizes an individual or company who, in a short amount of time, has exhibited enthusiastic support of the ISO through sponsorship, promotion and exposing new patrons to the programs. Patty A. Turner, Sr. Director of Internal Events & Community Relations, accepted the award on behalf of NextGear Capital from Gary Ginstling, CEO of the Indianapolis Symphony Orchestra.
Community outreach is one of NextGear Capital's core company values and its commitment to our local, national and international community is demonstrated through sponsorships, in-kind donations, community partnerships, and most importantly, through team member volunteerism. NextGear Capital strives to be a positive force in our communities and is committed to supporting the causes that mean the most to its team members.
Founded in 1930, the mission of the Indianapolis Symphony Orchestra is to inspire, entertain, educate and challenge through innovative programs and symphonic music performed at the highest artistic level. The ISO began with volunteer musicians and over the years grew to become one of the nation's most renowned orchestras, having the opportunity to entertain all over the United States, on television, the radio and in over a dozen countries. In addition, the ISO was the first orchestra to receive a letter of commendation from a president and still holds the world record for appointing the youngest conductor.
NextGear Capital began a partnership with the Indianapolis Symphony Orchestra in 2014 with an associate sponsorship at Symphony on the Prairie. In the second and third years of partnership, NextGear Capital started bringing larger groups to the Prairie, finding value in using the sponsorship as a unique way to entertain team members and their family members.
This year, NextGear Capital is planning to combine its annual picnic for team members and their families to enjoy its sponsored Symphony on the Prairie concert, "The Music of Michael Jackson" on Saturday, August 26.