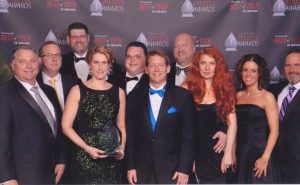 CARMEL, Ind. – TechPoint, Indiana's technology growth initiative, recognized NextGear Capital as one of the state's technology success stories during its annual Mira Awards gala on May 2. Now in its 16th year, the Mira Awards celebrate the most innovative and successful technology companies in Indiana, as well as entrepreneurs and educators.
NextGear Capital took home the IT Services for Business Award for its development and implementation of a proprietary ERP/CRM/mobile platform. The creation of this platform, upon which NextGear Capital runs its business, directly contributed to the Cox Automotive company doubling its revenue last year.
"It's an incredible honor to receive this award, which is a testament to the quality of people we have at NextGear Capital and Cox Automotive," said Bryan Everly, CTO of NextGear Capital and recently-named TechPoint board member. "A company like this could not be successful without the individuals throughout our state's tech industry that really want to make companies successful."
The judges also recognized the company's dedication to growing its Indiana workforce. In 2014, NextGear Capital added 85 employees to its technology team, with plans to add an additional 30 this year.
"The Mira Awards amplify success stories of some of the very best Indiana startups, scale-ups and established tech companies, which helps them win new customers, attract investment capital and acquire skilled talent," said Mike Langellier, president and CEO of TechPoint. "The Miras are a large, annual part of our mission to accelerate tech growth in Indiana."
Forty-three independent, volunteer judges spent more than 700 collective hours reviewing and ranking the applications, interviewing the nominees and selecting the winners. Judges included 15 company founders, eight CEOs and presidents, four CIOs, six vice presidents and a variety of other subject matter experts.