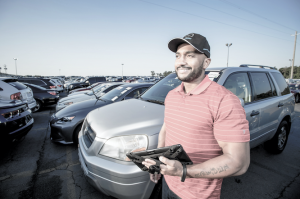 Dealer success is dependent on stocking up their lots with the right inventory. While many dealers would prefer to pay for the vehicles up front with cash on hand, this isn't always feasible or the best option for maintaining cash flow and growing their business. Floor plan lending is often what the most successful dealers use to get the most out of their business.
Floor Plan Lending: How to Start
The first thing dealers need to do in the floor plan lending process is to apply. Besides their dealer license, in order to qualify, a dealer needs to have a history of using credit and paying down debt. Bad credit and some marks on a credit history won't always prevent an individual from obtaining a floor plan, but it will likely limit the amount of capital a lender is willing to give to the dealer. Line of credit amounts are not set in stone. Dealers who consistently demonstrate that they can manage their floor plan will have the opportunity to increase their line of credit.
Using your line of credit
Many auction locations accept several floor plan lending providers as a payment option. This means that at an auto auction, a dealer only needs to worry about buying inventory that is the best for their dealership. Instead of worrying about handling back-end operations and other details, a dealer can simply notify the auction to put the vehicle on their floor plan and experience a simple, seamless transaction. For non-auction purchases, NextGear Capital dealers also have the option of using Rapid Pay, which offers expedited funding on the notice of a title.
Grow Your Business with Floor Planning
Floor plan lending helps dealers secure the capital they need to purchase inventory as well as the cash flow to grow their business or to pay for other expenses. Floor plans can eliminate holding costs and depreciation, in addition to help cost savings by giving dealers back more time in their day by freeing them from waiting for checks to clear at an auction as well as other various administrative tasks.
Floor plan financing allows dealers to focus on running their business, allowing them to spend less time in the weeds and more time finding ways to invest in their dealerships.