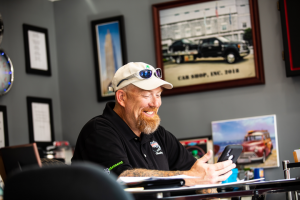 How long does it take to get newly acquired vehicles on to your dealership lot and ready to be sold? After purchasing, transporting, reconditioning, and posting vehicle details online, it's easy to see how it could take a while to get a vehicle back to your lot. Unfortunately, taking too long to put inventory on your lot and post it online could be putting your dealership's profit margins at risk.
It typically takes the average dealer seven to 10 days to make a car customer-ready. However, some reports indicate that the top 20 percent of dealers are able to get cars on the front lines of their lots in fewer than four days. In addition to this, it takes nearly 13 days to merchandise the vehicle online, yet again the top-performing 20 percent of dealers find a way to merchandise within a four day window.
It costs money to keep a car on a dealership lot, even if it is just sitting in a parking space. Figuring out the dealership holding cost per unit per day is a useful metric that can help dealers keep their inventory balanced. Dealers that are interested can use our three floor plan finance formulas to figure out what individual unit holding costs per day are.
Improving efficiency and the speed to retail is one of the most important steps a dealer can take to protect a current and long-term profitability. The faster a dealer can get vehicles to their lot and posted online, the faster that dealer is likely to turn that inventory into profits. The faster a dealer has those profits in hand, the sooner that dealer can buy more vehicles.
In terms of floor planning, it can also be an advantage to speed up the amount of time it takes to get a vehicle ready for customers. Overall, a dealer will spend less purchasing inventory on a floor plan as opposed to cash, especially if a dealership experiences aged inventory. However, the faster a car sells off of a dealer's lot the less they will spend on floor planning expenses.
Some simple tangible ways dealers can increase speed to market include the following suggestions:
Use tools and resources to buy right: What vehicles in your market are in demand? Are you getting these vehicles at a good price? Tools like vAuto Stockwave, value lookup and individual dealership statistics via Account Portal and the Manheim Market Report are great places to begin looking for details about quality inventory.
Adjust the current dealership transportation model: It takes time to move a vehicle from point "A" to point "B." In order to speed up the auction-to-lot process it's crucial to evaluate how quickly your dealership can transport those vehicles. How efficient is your dealership's current transportation? Manheim customers can look at solutions such as Ready Logistics to transport dealership cars quickly and efficiently. In addition, NextGear Capital customers have the extra ability to floor plan any transportation costs.
Get vehicles online sooner: In an ideal world, dealers would get vehicles listed for their dealership before leaving the auction. Though that isn't always possible, aim to have every vehicle online within 24 hours of arriving at the dealership. The sooner the vehicles are online, the sooner potential customers can see the type of inventory available on your lot.
Dealers who take steps to speed up the amount of time it takes to get vehicles from the auction to their lot have increased their chances of turning inventory quickly and growing dealership profitability.
For more information on the benefits of expediting the process from acquisition to retail, click here.